"Shout for joy to the LORD, all the earth, burst into jubilant song with music; make music to the LORD with the harp, with the harp and the sound of singing, with trumpets and the blast of the ram's horn— shout for joy before the LORD…"
 – Psalm 98 4-6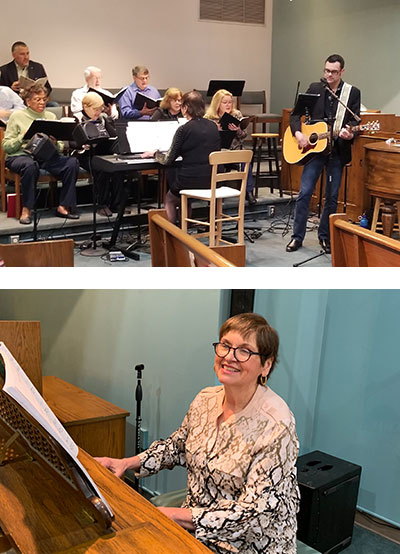 Advent has a robust musical program that gives the congregation many different ways to either offer their own talents or enjoy the talents of their neighbors. We are definitely a community that loves music in many different forms.
As the name suggests, our traditional service at 8:30 am offers a more blended-traditional music selection with a mixture of hymns and worship music familiar to many who have grown up in the Lutheran church. In addition to chancel choir, we have a women's choir, a men's ensemble, and two bell choirs which are regularly part of worship. Alternating piano, sequencer and organ accompaniment in morning worship, this service also features special event dramas and musical programming throughout the church year.
At 11:00, our music is contemporary in style and is anchored by guitar, keyboard and our Grace Alive ensemble. This service does not use a hymnal and often features music from modern Christian artists and composers. Our worship leader in this service, Mars Licciardi, also offers a Music with Mars program for our children and youth on Friday evenings. Music with Mars is open to all levels of musical ability and includes learning to sing and play various instruments.
Come join one of our musical groups and make a joyful noise!