Sunday Mornings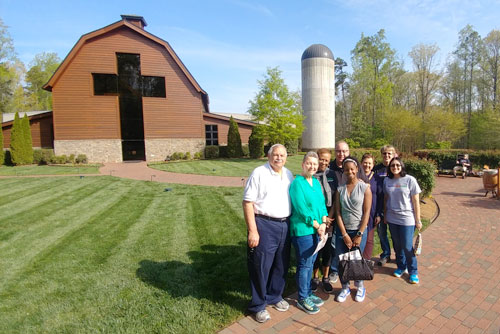 Programs are offered for adults throughout the year from 9:45-10:45. Often short classes are offered that run for a few weeks to offers a special topics focus. There are two classes that run throughout the year:
Parlor Class – meets, you guessed it, in the Parlor and discusses a range of topics which often includes book studies.
The Adult Bible Study – meets in the Campus Ministry space and focuses on traditional bible study.
Recent short offerings:
"Praying in Color" by Sybill MacBeth – an introduction to using artistic expression as a form of prayer
Racial Justice in the US – a discussion-based class examining the contemporary struggle for equality in America
Small Groups
We love to gather in smaller groups to form more intimate bonds with each other. Our small groups are based on shared interests and change their topics of study on a rotating basis. Some groups meet during the day while others get together in the evenings. A partial list of groups meeting now includes folks studying:
The Environment/Nature
Spiritual Practices
The Book of Luke
Historical Religious Sites of Charlotte
Social advocacy
Various book groups
Via de Cristo

Many members of Advent are involved in Via de Cristo, a three-day retreat ministry which strengthens and renews the faith of Christians and helps them grow into leaders for Christ.  Focus is on spiritual growth, study and action to change our environments for Christ.
Visit Eastern North Carolina Lutheran Via de Cristo' s website.