Sunday Mornings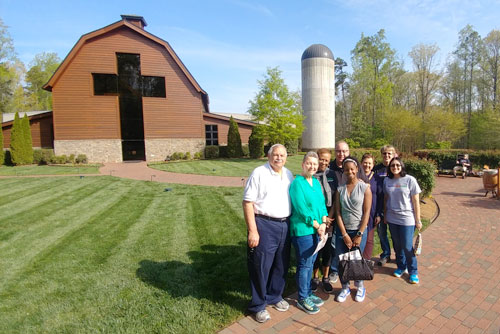 Programs are offered for adults throughout the year at various times. Often short classes are offered that run for a few weeks to offers a special topics focus. Parlor Class  discusses a range of topics and typically requires no preparation to participate. They meet at 9:00 in the Parlor and kick off the fall season September 18th. All are warmly welcomed to this class.
Small Groups
We love to gather in smaller groups to form more intimate bonds with each other. Our small groups are based on shared interests and change their topics of study on a rotating basis. Some groups meet during the day while others get together in the evenings. Two groups that are always open to new members are:
Lunch and Learn – meets on Monday from 12:00-1:00 via Zoom. The Fall 2022 class kicks off September 19th discussing Love Without Limits by Jacqueline A. Bussie. This book study will meet 9/19, 10/3, 10/17, and 10/31. In November and December, we will discuss Parker Palmer's book The Active Life. The Zoom link is found on the Member Dashboard.
Wednesday Word – this class focuses on Biblical study. We will begin the fall season with a study from the ELCA entitled "Be Not Afraid." This class also meets from 12:00-1:00 on Wednesdays via Zoom – link on Member Dashboard.
Synod Book Study – Join Pastor Ward and folks from all over the synod to read and discuss "The Color of Compromise" by Jemar Tisby. This class will be on Thursday evenings at 7:00 and will run for 6 weeks beginning October 13th. As soon as the link is available to sign up, it will be posted here.
If you are interested in joining a one of these groups, contact Carol Schierlmann at spiritualdev@adventlu.org
Via de Cristo

Many members of Advent are involved in Via de Cristo, a three-day retreat ministry which strengthens and renews the faith of Christians and helps them grow into leaders for Christ.  Focus is on spiritual growth, study and action to change our environments for Christ.
Visit Eastern North Carolina Lutheran Via de Cristo' s website.