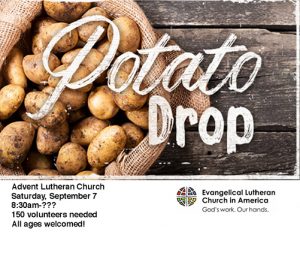 God's Work, Our Hands
This year Advent's church-wide service day will feature a Potato Drop through the Society of St. Andrew on Saturday, September 7 from 8:30am- 4:30pm.  We will meet at the church to bag potatoes, sort for pickup by non-profits and load pickup vehicles.  Volunteers of all ages are encouraged to join with your church family in helping to provide food for our hungry neighbors.
So what is a Potato Drop?  We will salvage potatoes that are rejected by commercial markets or potato chip factories due to slight imperfections in size, shape, sugar content, or surface blemishes. Usually, these rejected loads end up at local landfills. Through the Potato and Produce Project, the Society of St. Andrew is able to redirect these 40,000-45,000-pound loads of fresh, nutritious produce to food banks, soup kitchens, food pantries, low income housing areas, local churches, and other hunger agencies for distribution to the poor. In 2018, the Potato and Produce Project collected and distributed 6,848,020 pounds of fresh produce.  
One Potato, Two Potato, Three Potato, Four
In addition to the potato bagging work there will also be fun and games, refreshments, and good fellowship opportunities.  Invite a neighbor or work colleague to join us. The Potato Drop will be a wonderful chance to share with others what the Advent community looks like in action!  And if you have a pick up truck and would be willing to help deliver bagged potatoes on September 7, please let us know.  Contact Pam Isacks, Abby Bostian, Esther Abdel-Hameed, or Toni Hagerman for more information.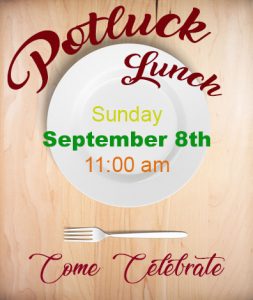 Potluck Lunch
Please join Nurture and Fellowship for a Sept 8th potluck to celebrate Advent's Day of Service!
Following Saturday Sept 7th's day of service, we would like to offer a potluck on Sunday, Sept 8th, following the 10am service.
Nurture and Fellowship will provide salads and we ask those that would like to attend to bring a "potato dish" to share, that  feeds 8  people.
Please bring your dish in a serving container, with your name on the bottom.   We can keep your dish warm, or bake it during the 10am service if needed.
Please have all dishes in the kitchen by 9:45 please.   We look forward to seeing you there to celebrate and fellowship with each other.  Please see Mona Ingolia or Amy Dodson with questions.

YOGAFAITH with TAWNIE
STARTING August 8th
Starting August 8th 2019 come join us for Yoga and Faith with Tawnie every Thursday in GYM from 7-8pm. Just a $5 donation. Please bring your own mat. 
Registration is not required by clicking the link below Tawnie will be able to better inform you of cancellations or class changes.