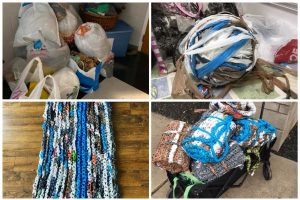 What's "Plarn"?
Over the past few years, you donated more than 100,000 plastic bags which were turned into 250 beds for unhoused people in Charlotte.  The steps between bag and bed are (1) cutting the bags into plastic yarn (Plarn) and (2) crocheting the Plarn into mats.
One of our 2020 GWOH projects is to have our Advent families take those plastic bags, make as much Plarn as possible by October 11 and roll it into GIANT balls.  We will teach you to make Plarn balls on Sunday, September 20.  A Zoom or video will be available if you can't be there in person.    Reserve your minute space now on this sign-up genius:
https://www.signupgenius.com/go/30e0f4aaba82aa3fe3-gods
We will wear masks, socially distance, be outside if possible, and will clean between sessions.   You should bring with you:
a pair of scissors for your family, testing first that the scissors can easily cut the bags 
all the plastic bags you can collect
a 10-mm crochet hook if you also want to learn to crochet the beds
We need thousands of bags!!!   Each mat requires 300-500 bags.   Bring them on the 20th or leave them at the church anytime.   If you need someone to pick the bags up, contact Jennie Henderson (jhendersonfit@gmail.com).
Don't forget to collect all the bags you can!
What's the River Sweep?
Our second GWOH project is with the Catawba River Sweep.    This is a one-day initiative of pulling trash out of the rivers, lakes, and tributaries that feed into the Catawba River.  We are confirming a date so watch for information in future eNEWS.   For more information, you may visit their website at https://catawbariversweep.org/.
Both projects are also part of Advent's Radical Love Endeavor - Creation Care week.   Stay tuned for more information on that endeavor.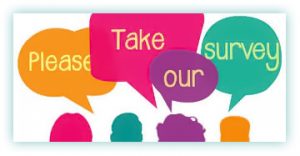 Faith and Race Check-In
In the past few months, Advent, along with many other churches, has increased the amount of focus we are giving to issues and events tied to faith and race. We have partnered with a research firm that has designed a (free) survey to help us understand which areas the congregation would most like to see Advent concentrating on.  The survey is short and will take less than 10 minutes of your time. Please have each person 18 years of age and older in your household complete this survey. We look forward to hearing from each of you!
Summarizing our ELCA Social Statement on Race
As Lutherans pondering our role in attaining racial justice, we can find our mission in the ELCA social statement entitled "Freed in Christ: Race, Ethnicity, and Culture." A full reading of the 8-page document reveals the word "time" repeatedly. We might conclude that it's about time we address racial justice! A brief summary follows: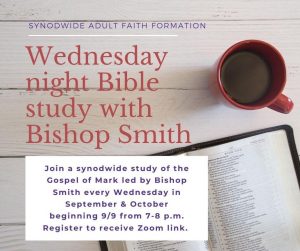 BIBLE STUDY WITH BISHOP SMITH
Have you been missing your adult Sunday school class? Or maybe you wanted more after the synod's summertime journey through Matthew? Join this first-ever synodwide study of the Gospel of Mark led by Bishop Smith every Wednesday in September and October (beginning Sept. 9) from 7-8 p.m. The online class will be taught via Zoom.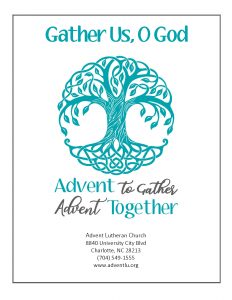 Welcome to the Advent Lutheran Church online community. In response to the temporary reality of social distancing, we will continue to reach out with our hearts instead of our hands for a little while longer. We are an embodied people and miss the ability to gather together. While we look forward to a wonderful reunion sometime in the future, we also recognize that each new day is a gift from God. Using creativity and care, we are finding new ways to grow in God's love where we are planted. We encourage you to take advantage of all the ways you can be connected with one another right now.
You will note a newly invigorated focus on racial and social justice work inspired by our shared to desire to do a better job using our voices and our resources in this area. Check out our new page under the Outreach & Support tab to learn all the ways you can get informed and plug in to make a difference.
Links to Sunday worship will be posted here to our new Youtube channel each week at 10:00. Adult Education continues via Zoom Sundays at 11:00 and Wednesdays at 11:45 am. We begin a new study, Interrupting Silence by Walter Brueggeman, Sunday, July 26th at 11 am. Order your book on Amazon or contact spiritualdev@adventlu.org if you need financial assistance obtaining the materials. This study will take a biblical look at God's expectation of us in speaking up for those who are oppressed. A weekly devotion will be posted here each Tuesday and discussed in the community via Zoom on Thursday at 1 pm. Links to all the Zoom sessions are posted on the Member Dashboard website page.
If you have not listened to our podcast, The Radical Love Endeavor, you will find episodes on the stress of separation and loss, how to help children and youth during the quarantine as well as a new guided meditation series.
Keep checking back for new content and let us know if there is something you would like to see or hear from us by sending suggestions to info@adventlu.org with the email subject "Suggestion for Content."