Online Worship
Holy Communion will be offered on the
2nd and 4th Sunday of each month by Zoom.
November 29, 2020
The First Sunday in Advent

WORSHIP BULLETIN
Worship Service link becomes active at 9:40 am
Preservice Music - 9:45 am
Worship Service - 10 am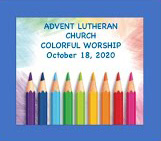 ---
Weekly Devotion
October 1st - 29th at 1:00 pm
Join us to read, study and discuss the ELCA Social Statement on Caring for Creation: Vision, Hope and Justice. Using the guide provided, we will read the statement one section at a time, read Bible verses, pray and think about how we care be better stewards for God's Creation. We will be challenged to think of ways we can do better in our personal lives as well as corporately here at Advent.
Click here for the Social Statement and the Study Guide
For a link to the Weekly Devotion Zoom meeting please login at Member Login, and then go to the Members Dashboard webpage.     
---
---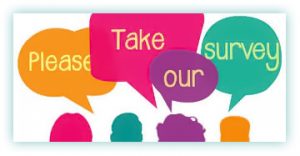 Faith and Race Check-In
In the past few months, Advent, along with many other churches, has increased the amount of focus we are giving to issues and events tied to faith and race. We have partnered with a research firm that has designed a (free) survey to help us understand which areas the congregation would most like to see Advent concentrating on.  The survey is short and will take less than 10 minutes of your time. Please have each person 18 years of age and older in your household complete this survey. We look forward to hearing from each of you!
---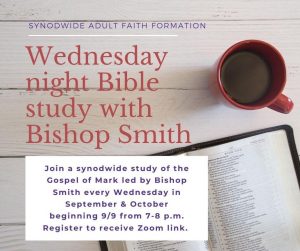 BIBLE STUDY WITH BISHOP SMITH
Have you been missing your adult Sunday school class? Or maybe you wanted more after the synod's summertime journey through Matthew? Join this first-ever synodwide study of the Gospel of Mark led by Bishop Smith every Wednesday in September and October (beginning Sept. 9) from 7-8 p.m. The online class will be taught via Zoom.
---
Click here for 
YouTube video on assembling your Advent Wreath Kits 
---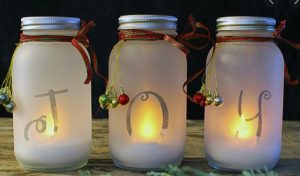 HOW TO
MAKE LUMINARIES
We would love to have everyone add their light to the grounds at Advent for the Christmas Eve service. Each of us shines the light of Jesus; together, our light grows luminous and beautiful beyond measure.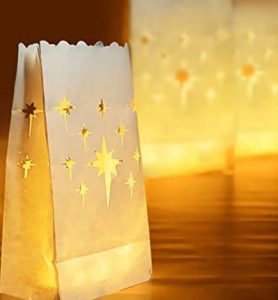 Click on this link to get instructions for making a luminary. The guide includes instruction for a paper luminary or a more complex glass one. Bring them to your service of choice to share and take back home when you leave as you carry your Christ-light back out into the world.
---
An Invitation for You from the National Lutheran Choir
Please note the time will be 9pm EST.
---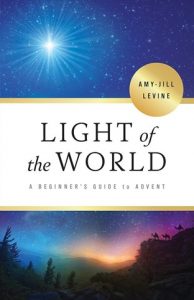 Light of the World: A Beginner's Guide to
Advent - 7pm by Zoom
Advent is not only the perfect time to read the story of the birth of Jesus; it's also a great time to dive deeper into the biblical texts that surround the event. In Light of the World: A Beginner's Guide to Advent, author, professor, and biblical scholar, Amy-Jill Levine, shows how the Gospel narratives connect to the Old Testament; highlights the role of women in first-century Jewish culture; and emphasizes the importance of Mary's visitation, the census, the stable, the star of Bethlehem, and the flight to Egypt. 
You are invited to join the Parlor Class for this exciting study on November 30, December 7, December 14, and December 21.  For Zoom connection information go to Members Dashboard page.
---
Advent's Call For Social Justice
---
Affordable Housing Discussion with Guest Speaker Ryan Carter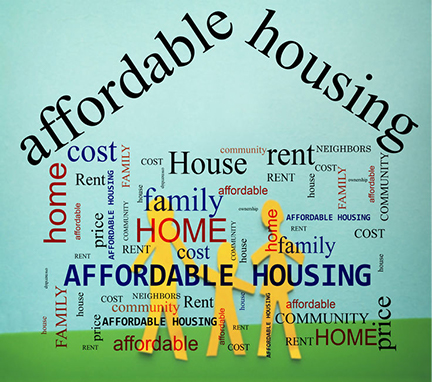 ---
GLORIOUS DAY TO WORSHIP OUTSIDE!!!!
NOVEMBER 8, 2020
What a beautiful day for us to hold our first in-person worship service in exactly 8 months!!!   Thank you to all who worked to put this service together!   It was so wonderful to see some of our church family.  There were 66  fully-masked people in attendance of which 19 participated from their cars.    
If you were not able to attend, we hope you watched it livestreamed to understand why we were all so excited. The service remains available from the Advent website under Worship Service from the home screen.  Before the end of the week, it will move to the Worship and Music page under "Ways to Worship".
Plans are underway for more outside Advent activities as we go into the Advent and Christmas seasons.   Watch for details!
---
RACIAL JUSTICE TEAMS





Are you ready to do something in the Racial Justice Arena?
We are about to kick off three new teams designed to engage with the congregation and the community.  This will occur on Sunday, November 15th, in a Zoom call at 4:30pm. Whether you have already been working in this area, or you are new and want to learn some more, you are invited to join the call.
Three teams will be introduced and then each group will be sent into a zoom break-out session to set their goals.
Team Education/Worship will plan book and bible studies, seminars and worship components designed to improve our awareness of the various issues surrounding racial justice as well as the Biblical foundation for seeking justice for all.
Team Community Partnership will reach out to local churches whose congregations are predominantly people of color.  By partnering with these congregations, we can be more aware of the issues they face and seek greater understanding through interaction.
Team Civic Action will identify ways that members of Advent can get involved directly finding solutions to some of the challenges facing our brothers and sisters of color here in Charlotte.
Youth in middle and high school are welcomed and encouraged to join one of these teams.   Please let Carol Schierlmann (spiritualdev@adventlu.org) know if you are planning to attend and which team you are interested in or just show up on the call! The link will be posted on the member dashboard of the adventlu.org website.
---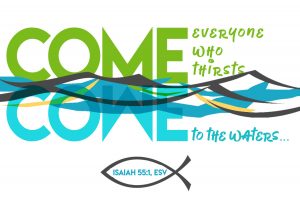 Join Pastor Ward and Carol Schierlmann for an
in-depth study of the Book of Isaiah
Beginning Wednesday October 7 at 11:45 Sunday October 11 at 11:00
We will come together as a community to dig deep into the scriptures of Isaiah. This study will run from October through April with some breaks in between for holidays. Drawing from Old Testament Scholars like Walter Brueggemann and others, we are designing a course that combines an examination of the richness of the text as well as the contemporary message that God has for us today. Don't be scared off by the time commitment! Each week, the reading will include a few pages from the Biblical text and 10-15 pages from the companion guide.
Why are we planning to spend so much time in Isaiah? A foundational text of the Bible, Isaiah is the first of the great prophetic books of the Old Testament. We have chosen the book Isaiah for Everyone for the student companion reading by John Goldingay. (Amazon $12.99) This book offers a thorough interpretation of the messages of the prophets' writing to the people of Judah and Jerusalem which included a call for injustice to be recognized, a message of liberation and hope from the oppressors of the people, and a message of the coming day of judgment. These separate messages are held together by the promise of a new age of redemption and peace that lies beyond the crisis of judgment.
Our first class begins with an overview of the book and the context in which it was written. Please let Carol Schierlmann know which session you plan to attend so she can get you in the email list that will go out to all participants.
---
Summarizing our ELCA Social Statement on Race
As Lutherans pondering our role in attaining racial justice, we can find our mission in the ELCA social statement entitled "Freed in Christ: Race, Ethnicity, and Culture." A full reading of the 8-page document reveals the word "time" repeatedly. We might conclude that it's about time we address racial justice! A brief summary follows:
---
Being in Community - Together While Apart
Welcome to the Advent Lutheran Church online community.  In response to the temporary reality of social distancing, we will continue to reach out with our hears instead of our hands for a little while longer.  We are embodied people and miss the ability to gather together.  While we look forward to a wonderful reunion sometime in the future, we also recognize that each new day is a gift from God.  Using creativity and care, we are finding new ways to grow in God's love where we are planted.  We encourage you to take advantage of all the ways you can to be connected with on another right now.
You will note a newly invigorated focus on racial and social justice work inspired by our shared desire to do a better joy using our voices and our resources in this area.  Check out our new page under the Outreach & Support tab to learn all the ways you can get informed and pug in to make a difference.
Links to Sunday worship will be posted here to our new YouTube channel each week at 9:40.  Adult Education continues via Zoom, Sundays at 11 am, and Wednesdays at 11:45 am.  A weekly devotion will be posted here each Tuesday and discussed in the community via Zoom on Thursday at 1 pm.  Links to all the Zoom sessions are posted on the Member Dashboard website page.
If you have not listened to our podcast, The Radical Love Endeavor, you will find episodes on the stress of separation and loss, how to help children and youth during the quarantine as well as a new guided meditation series.  
Keep checking back for new content and let us know if there is something you would like to see or hear from us by sending suggestions to info@adventlu.org with the email subject "Suggestion for Content".