Advent's commitment to the most vulnerable in our community has never been more important. The headlines are full of news of layoffs and business closings. Demand at food pantries and soup kitchens is increasing. We are offering several ways, listed below, for the congregation to plug into this ministry.
Volunteer with Galilee Center and Second Harvest Food Bank, socially distanced and with masks. These opportunities will be during the morning hours on Tuesday, August 4 and Thursday, August 6. Mark your calendars and look for details and your chance to sign up in Enews, email and the website.
Food Donation Drive-thru Saturday, August 8 from 10-12:00. Bring non-perishable food items and drop them off in the Advent parking lot with volunteers. We will restock our pantry and donate any overflow to the Niner Food Bank at UNCC.
Crop Hunger Walk - Sign up at the Food Donation Drive-thru! Jennie will be there to get you registered and will have a basket for cash and checks as well.



Virtual Walk is on
Sunday, October 11, 2020
You can sign up now to walk and start fundraising. 
Go to (click) crophungerwalk.org/charlottenc/Team/View/131734/Advent Lutheran
On-line Poverty Simulation - Walk a simulated mile in the shoes of someone from a marginalized community. This poverty simulation only takes 15 minutes to complete and is appropriate & understandable for everyone. We encourage families with school age children to complete it together. Join us on August 5th at 7:00 via Zoom, and we will discuss your thoughts on the experience and outline ways you can plug in to help folks in Charlotte who find themselves facing hard food insecurity, homelessness and other impacts of poverty.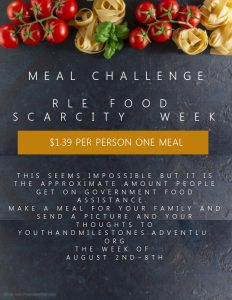 Dinner for $1.39 per person?  This seems impossible but it is the approximate amount that folks on government food assistance are allocated for each meal. We will be challenged to prepare a dinner for this amount and share pictures and commentary on the outcome.
Pray - our prayer of the day will focus on what it means to be fed and the call to feed others. To sign up, just go to the website and put in your email or send your request to Carol at Spiritualdev@adventlu.org.
Devotion - our weekly devotion will be on Thursday August 4th at 1:00 and will center on this topic. The devotion and Zoom link will be posted on the homepage of Adventlu.org by August 4th.
(Details coming soon about September's Love Your Mother Earth Week when we will focus on ways to be better stewards of Creation.)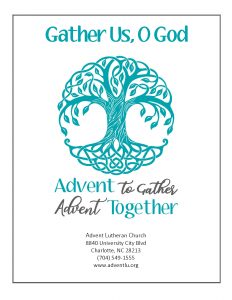 Welcome to the Advent Lutheran Church online community. In response to the temporary reality of social distancing, we will continue to reach out with our hearts instead of our hands for a little while longer. We are an embodied people and miss the ability to gather together. While we look forward to a wonderful reunion sometime in the future, we also recognize that each new day is a gift from God. Using creativity and care, we are finding new ways to grow in God's love where we are planted. We encourage you to take advantage of all the ways you can be connected with one another right now.
You will note a newly invigorated focus on racial and social justice work inspired by our shared to desire to do a better job using our voices and our resources in this area. Check out our new page under the Outreach & Support tab to learn all the ways you can get informed and plug in to make a difference.
Links to Sunday worship will be posted here to our new Youtube channel each week at 10:00. Adult Education continues via Zoom Sundays at 11:00 and Wednesdays at noon. We begin a new study, Interrupting Silence by Walter Brueggeman, Sunday, July 26th at 11 am. Order your book on Amazon or contact spiritualdev@adventlu.org if you need financial assistance obtaining the materials. This study will take a biblical look at God's expectation of us in speaking up for those who are oppressed. A weekly devotion will be posted here each Tuesday and discussed in the community via Zoom on Thursday at 11 am. Links to all the Zoom sessions are posted on the Member Dashboard website page.
If you have not listened to our podcast, The Radical Love Endeavor, you will find episodes on the stress of separation and loss, how to help children and youth during the quarantine as well as a new guided meditation series.
Keep checking back for new content and let us know if there is something you would like to see or hear from us by sending suggestions to info@adventlu.org with the email subject "Suggestion for Content."